FHA to Permit DACA Recipients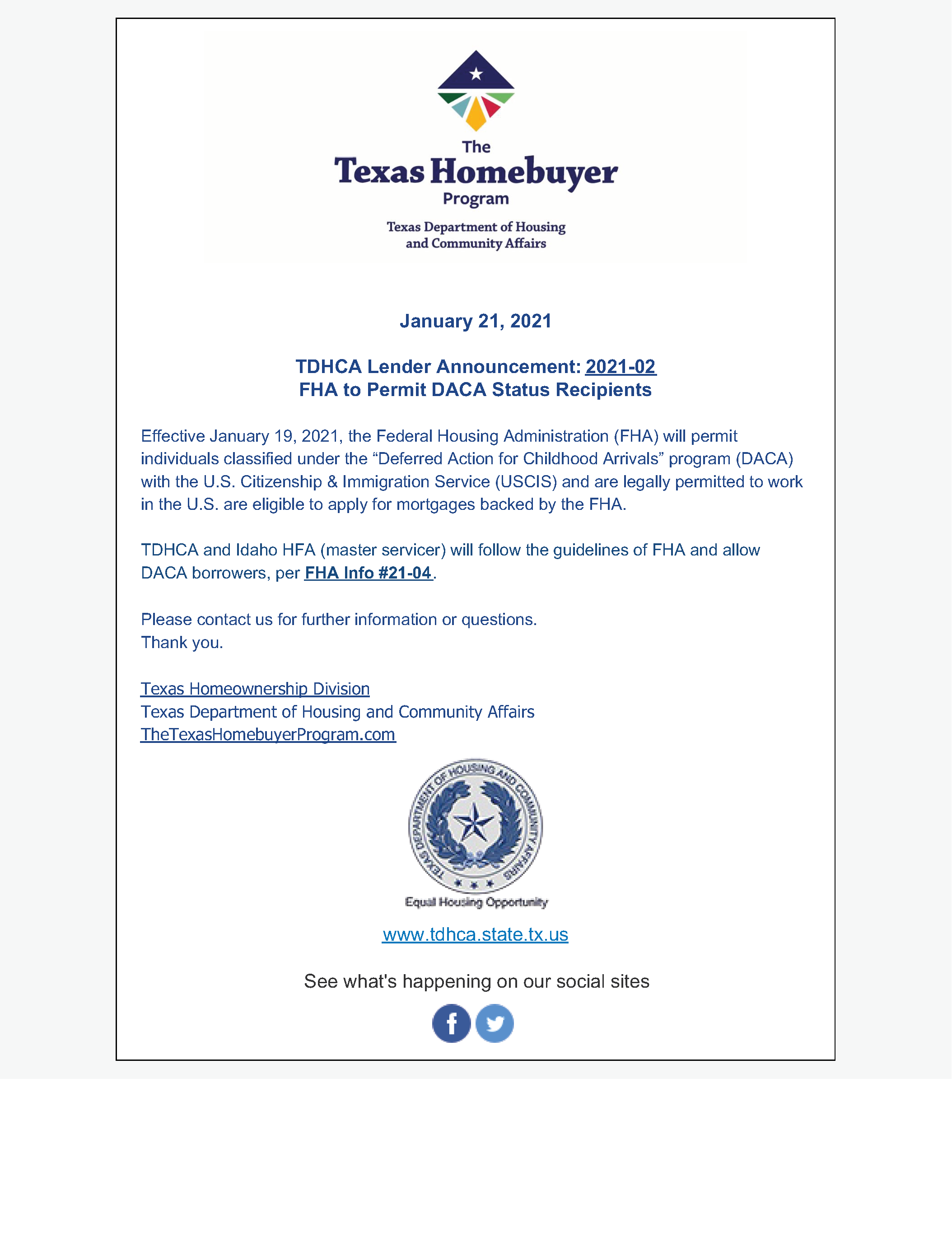 TDHCA Lender Announcement: 2021-02 FHA to Permit DACA Status Recipients
Effective January 19, 2021, the Federal Housing Administration (FHA) will permit individuals classified under the "Deferred Action for Childhood Arrivals" program (DACA) with the U.S. Citizenship & Immigration Service (USCIS) and are legally permitted to work in the U.S. are eligible to apply for mortgages backed by the FHA.
TDHCA and Idaho HFA (master servicer) will follow the guidelines of FHA and allow DACA borrowers, per FHA Info #21-04 .
Please contact us for further information or questions. Thank you.
Texas Department of Housing and Community Affairs TheTexasHomebuyerProgram.com

Special Assistance Now Available 10/22/2020

The Texas Homebuyer Program, offered through the Texas Department of Housing and Community Affairs, is partnering with the Capital Area Housing Finance Corporation (CAHFC) to make financing a first home more reasonable for low to middle-income families.
CAHFC DPA Grants, in conjunction with The Texas Homebuyer Program's My First Texas Home (MFTH), could provide qualified Central Texas residents $2,000 or $5,000 in additional down payment assistance. My First Texas Home currently offers 2% - 5% of the loan amount in down payment and closing cost assistance.
First-time homebuyers could also combine their MFTH mortgage loan with the Texas Mortgage Credit Certificate (TxMCC). The MCC provides a dollar-for-dollar reduction on a homeowner's federal tax liability for as long as they owe on the mortgage and live in the home.
CAHFC serves the following counties: Bastrop, Blanco, Burnet, Caldwell, Fayette, Hays, Lee, Llano and Williamson. Eligibility requirements for first time homebuyers can be found at here. Certain other requirements do apply such as household income and home purchase price (please see below).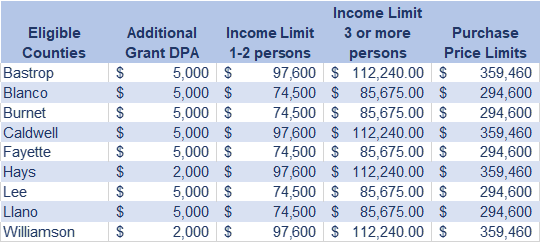 Funds are limited and can be accessed only through a TDHCA approved lender. Contact the Texas Homeownership Team for questions on how to get qualified for this exciting offer.